Slide 1
Empower Women, Prosper Africa
Enabling women to enter ICT jobs or adapt ICT skills to whatever their profession will create more economic opportunities.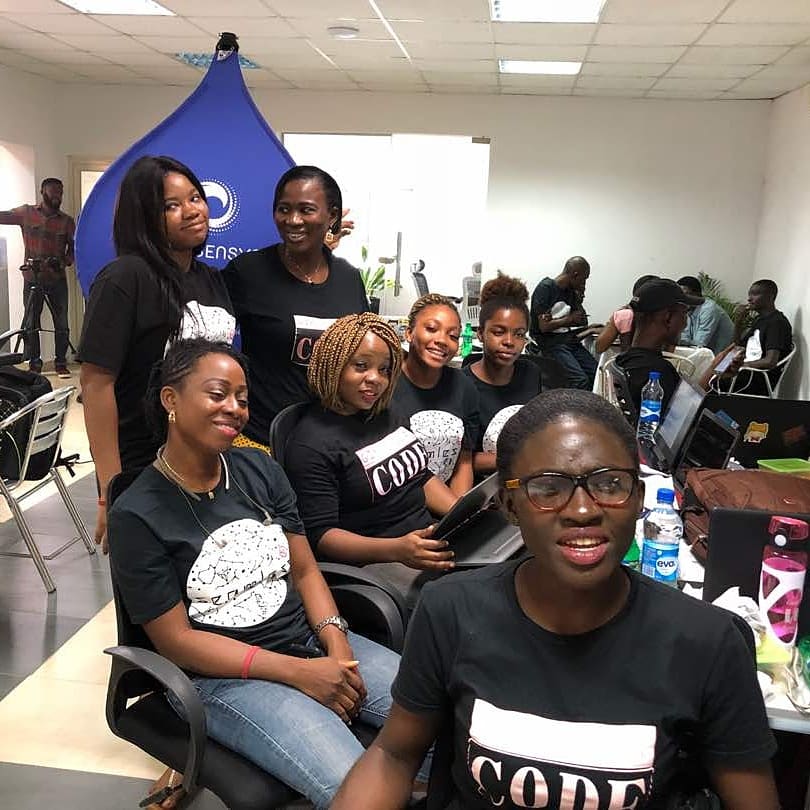 Slide 2
Digital x Code Academy
Our online academy with over 1,000 women from 7 African countries that empowers women currently studying or working with practical ICT skills, tools, and mentoring
Slide 3
STEM For Young Girls
We have a designed a framework that ensures that these junior girls are inspired to choose STEEM subjects at Senior school and as well at university level.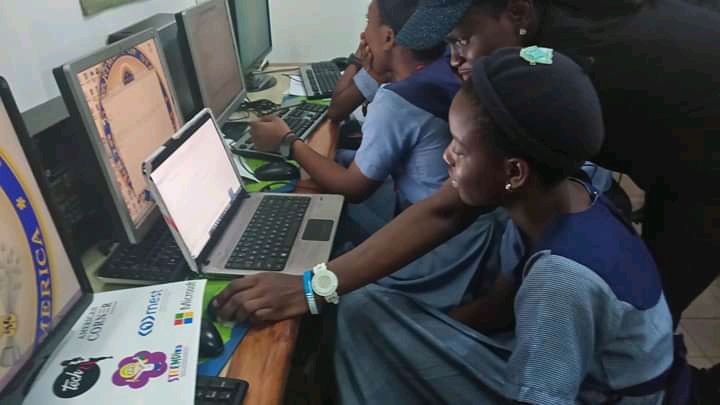 Empower Women, Prosper Africa
Women account for fewer than 20% of ICT specialists in developing economies and has been estimated that, from 2015, 90% of formal employment across all sectors will require ICT skills.
Tech4her Africa empowers, connects and supports the next generation of women leaders in science, technology, engineering and mathematics (STEM) from across 7 countries in Africa and Africans in Diaspora by providing a gender friendly space to learn, access mentors and opportunities needed to advance their careers, pursue their dreams, and inspire women and girls in their communities.
Our drive is to launch the next 10,000 female developers in Africa by 2025. Since GSC's launch in 2017, the girls of GirlsSlayCode have eagerly jumped into programming. Have a look at what we've done to support girls in STEEM and register for upcoming classes!
We host free code bootcamps in partnership with the American Corner-CCHUB monthly. Graduates of our academy  become members of the GSC Alumni network- Her Code Network (https://hcn.tech4herafrica.com) and have access to follow-up training, meetups, resources, mentoring, job placements etc. Learn more.
Coding should be elementary and infact everywhere. But today, many schools across the nation are not teaching their students an essential, creative and collaborative literacy- the ability to code.
Code Avengers empowers all elementary students by immersing them in practical and imaginative curricula that extends beyond coding. Our professional development initiatives give students the access to important 21st century skills.
Code Avengers also trains teachers to empower their students as they become creators, collaborators, communicators, logical thinkers and real-world problem solvers. Our professional development facilitators prepare teachers to become confident and effective mentors by teaching computer science and computational thinking concepts, sharing pedagogical content knowledge and supporting professional learning communities.
Code & Coffee is another way for women to get more experience in a supportive and collaborative environment.One of the big benefits is the motivation women get to continue coding. It is hard learning to code on your own and half the battle is consistently putting aside time to work on projects. The events attract a wide array of participants, from professional programmers to folks experimenting in their spare time.
This is an opportunity for our Alumni members (those who have undergone our Academy) can meetup to collaborate on projects and network with other high rising females. In July 2018, Our girls won the AngelHack.com social impact award for Africa and will be pitching at the Global Demo, Silicon Valley. Learn More…
STEEM DIVA BOOTCAMP 2019: Our goal is to reach out to middle school girls (JSS3, SS1, SS2) in Nigeria, inspired and supported to choose STEEM (Science, Technology, Engineering, Entrepreneurship, Mathematics) subjects as part of their post secondary goals. Explore…
GIRLS SLAY CODE BOOTCAMP 2019: To increase the number of women in the digital space by empowering females of  ages 15 to 35 build web + mobile apps + games with HTML, CSS, PYTHON, PHONEGAP. Explore…
Digital Business Academy 2015:  Our online academy with over 1,000 women from 7 African countries that empowers  women currently studying or working with practical ICT skills, tools, and  mentoring. Explore…
Get Your Business Online Campaign 2016: We reached out to 100 women living in Ogudu GRA, Lagos. Registered 500 business profiles online. They took simple courses such as how to use the internet, send emails and how to use powerpoint.